Our Commitment to Delivering Reliability and Safety
Message
At Utena, we have been committed to reliability and safety since our founding and made it its mission to deliver products and services that satisfy our customers. To support and meet customer needs, we have pooled our creativity and strengths and strived to manufacture high-quality products.
We wish to support the beauty of people everywhere. Guided by the slogan of "Bringing New Beauty into Bloom," we endeavor to deliver new kinds of beauty by delivering products and services that offer value to our customers. With the aim of enriching the lives of our customers, we exercise the utmost care and scrutiny to ensure reliability and safety.
Quality Assurance Initiatives
To provide reliable products to our customers, we have established standards in accordance with our philosophy of "Everything is for Our Customers." Based on these standards, we perform quality and safety reviews for all settings, from concept development and raw material selection to product delivery and customer use until the end of product life. In addition, we have various initiatives to make use of the feedback we receive from our customers to deliver ever-better products and services.
Quality assurance in each stage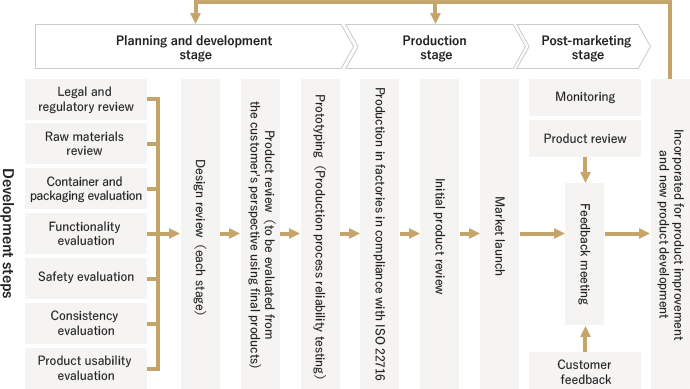 Planning and development stage
In addition to meeting legal requirements and international standards in relation to the safety, stability, functionality, and regulatory compliance with respect to raw material selection, formulation design, container and packaging design, labeling, and more, we have established original standards based on the know-how cultivated over our long history and conduct evaluations and reviews on a departmental basis. At the same time, we have created for each stage of product life cycle a Design Review (DR), which involves the participation of all related departments including the Consumer Service Division. Before finalizing product specifications, we conduct evaluations and reviews from the standpoint of customers by simulating customer usage from start to finish using prototypes. (Design Review, Product Review, Mass Production Prototyping)
Production stage
Quality evaluation is conducted in all divisions involved in product development using products manufactured with our actual equipment according to final specifications. At the same time, product testing is conducted with our employees to ensure that our products are problem-free from the customer's viewpoint. (Initial Product Review)
Utena's products are manufactured in factories managed at a higher level in accordance with international standards, including ISO22716 (Good Manufacturing Practices (GMP) for Cosmetics: standards for the production and quality control of cosmetic products) and ISO9001 (Quality Management System). In addition, the Quality Control Division in our head office conducts audits on a periodic basis and works with our factories to maintain and enhance production quality levels and achieve product quality consistency.
Post-marketing stage
In the post-marketing stage, inspectors perform lot-by-lot inspection on manufactured products to ensure quality prior to shipping. In addition, monitoring is conducted over time to check for any anomalies in quality. (Product Review, Monitoring)
Customer comments and inquiries received by our Customer Relations Office are valuable product information. They are reported to and shared with the management and relevant divisions and will be used to enhance our product and service quality and to develop new products.
Company-wide Quality Assurance System
All the quality-related information we receive from customers is consolidated by the Quality Control Division. The Division then carefully studies the content of the information and reviews inspection records, inventory, and manufacturing records kept by production factories and suppliers, and strives to respond quickly to customer requests in collaboration with the Customer Relations Office.
In the event of unexpected quality problems, we determine the seriousness of the information based on factors such as health hazards for customers and the potential extent of damage. Serious problems will be immediately reported to the executive in charge of quality assurance. Members of a company-wide body including the top executive will then determine how to address the issue, and appropriate action will be taken.